Customer Journey Campaigns
We're excited to help our clients implement Customer Journeys in their marketing! In short, these journeys are tailored to help your prospects go from discovery to purchase with targeted emails of various media content.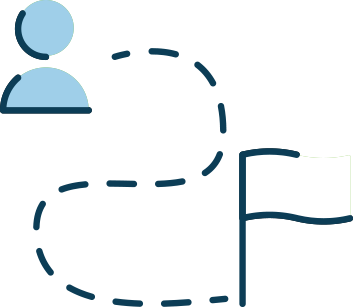 What are
Customer Journeys?
The customer journey spans a variety of touchpoints by which the customer moves from awareness to engagement, purchase, repurchase, reviews, and referrals.
"The customer journey is the complete sum of experiences that customers go through when interacting with your company and brand. Instead of looking at just a part of a transaction or experience, the customer journey documents the full experience of being a customer."
Types of Customer Journeys We Offer:

Lead Follow Up/ Sales Nurturing (Prospects)

Client Re-marketing, Retention & Referral

Onboarding

Event/Webinar

Survey/Feedback

Customized
Customer Journey Plans
Prospect / Customer Journey
A 7 piece series, usually consisting of well written ASAs (Articulated Sales Arguments) , value propositions, explanation of services and products, webinar or event invites, SMS, texts, surveys, infographics, and even a video. Series start from $1,800. Video and infographics are extra.
Client Journey
This journey is focused on retention, awareness of other sales opportunities, reinforced value of services and products, introducing any new options, and encouraging both reviews and or referral's. 7 piece series start at $1800.
Shorter, Series, and Survey Journeys:
Please click here or call us to discuss how we can build you a custom series and give you pricing. As email marketing, digital advertising, call tracking, content marketing, and more.
Our most popular and recommended Journey is a Prospect Journey. This is critical as it can take an anonymous visitor and build up trust and interest so that conversions become more likely. We primarily use and recommend MailChimp and Autopilot to manage your journeys. We can set these up for you as an agency partner.
Want To Learn More About Journey Marketing?
The Customer Journey Framwork & Buyers Stages
Customer Journey Marketing is a proven framework for acquiring, nurturing, and growing customers automatically. Journey marketing is about proactively driving the customer experience: getting found, converting visitors into leads, qualified leads into customers, and turning customers into repeat buyers and brand advocates.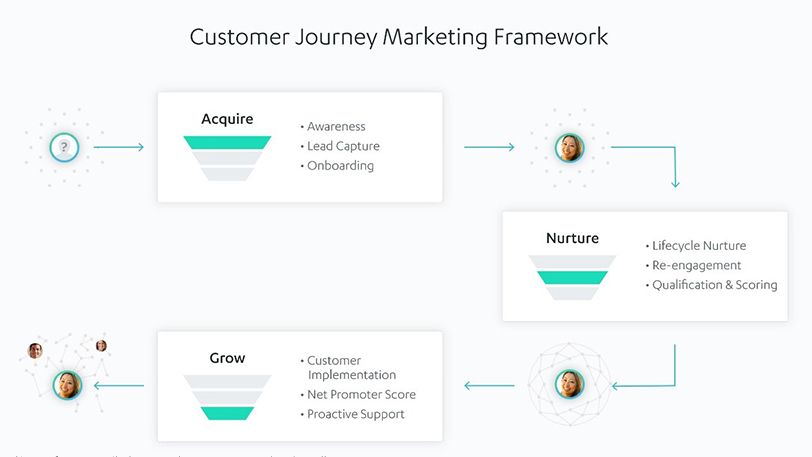 *Image from autopilothq.com who we recommend and resell.
Buyer's Stage Chart
A look at the Buyer's stage shows that the buyer's journey is the chronological set of learnings, interactions, touch points, and decisions that a user experiences as they get to know your brand, services, or product(s). What do they need to learn in order to become qualified? Take a look: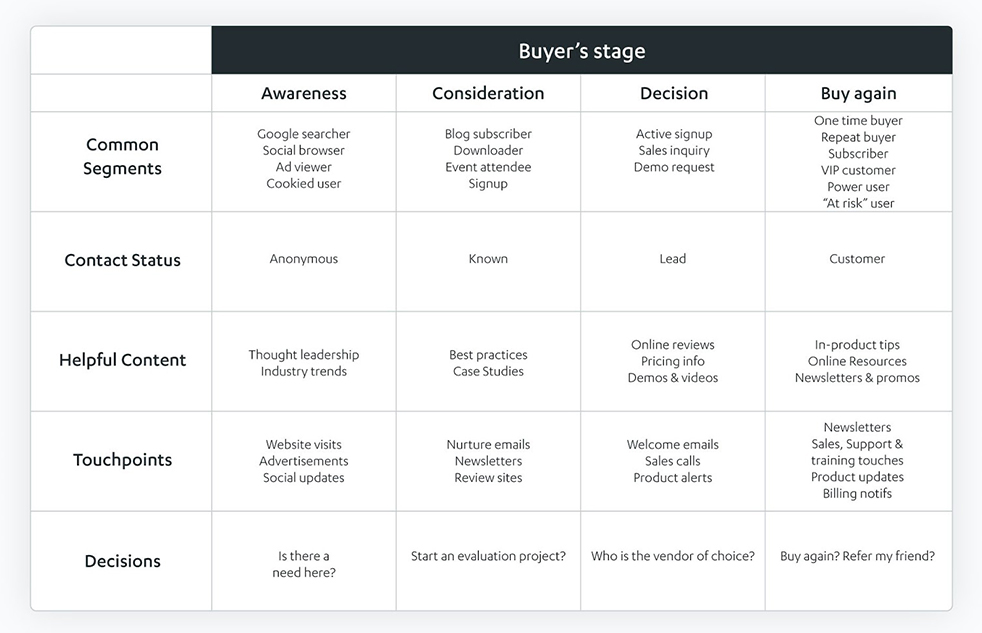 *Image from autopilothq.com who we recommend and resell.